Internships
The Minnesota Prepared Internship program provides students with paid opportunities to work in governmental public health agencies on COVID-19 response and emergency preparedness projects. Grant funds will cover intern wages, so there will be no direct costs incurred by public health agencies who host students for internships. Interns will be hired and paid through the University, but complete all their hours with the public health agency hosting them.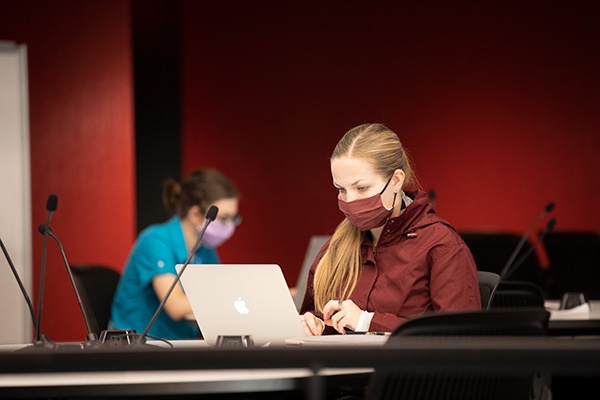 Internship Program Goals
Provide valuable learning experiences to public health students
Introduce students to governmental public health and emergency preparedness as career paths
Enhance public health agencies' projects through high-quality student work
Build and strengthen relationships between public health agencies, students, and the School of Public Health
Benefits of Internships
Develop the skills of the future public health workforce
Introduce students to meaningful public service careers in governmental public health
Benefit the community through mentorship of the next generation of public health professionals
Timeline
Spring 2023
Project submissions due: 11/18/22
Student applications due: 1/6/2023
Internships begin: early February 2023
Summer 2023
Project submissions due: 2/24/2023
Student applications due: 4/7/2023
Internships begin: mid May or early June 2023
How to Participate in the Internship Program
If you have a project in COVID-19 response or emergency preparedness that may be appropriate for a student to work on, please complete the host site interest form (opens in new tab/window). If you would like assistance developing a project, or have questions, email Kinsey Mannebach, project coordinator, at manne127@umn.edu.
MPH students can work a total of 300 hours on a project, and undergraduate students in the public health minor can work up to 200 hours on a project. The projects can be on-site, remote, or hybrid according to your agency's needs. Grant funds will pay the student and they will be hired through the University. For more details, please reference the Host Site Internship Manual (opens in new tab/window).
Eligibility criteria to host an intern:
State, local, or tribal public health agency in Minnesota
Engaged in COVID-19 response and emergency preparedness activities
Could benefit from support with projects in emergency preparedness/COVID-19 response
Able to commit time to supervise and mentor a student intern
Process overview: 
Determine a project for which an intern could be helpful
Fill out the host site interest form (opens in new tab/window) by November 18 for a spring intern
Receive intern match
Finalize internship details such as work hours and a project timeline
Conduct orientation and onboarding
Supervise and mentor the intern throughout the project
Evaluate your experience at the midpoint and closure of internship
Between 2021-2022, 100% of supervisors who hosted a public health student from SPH were satisfied with the quality of the student's work.
If you are interested in gaining hands-on, paid experience in a public health agency, consider applying for an internship. Even if you believe you know what career you want to have, it never hurts to explore something different and make connections in the field. For more details, please reference the Student Internship Manual.
Timing:
COVID-19 response and emergency preparedness internships through Minnesota Prepared will be posted on a rolling semester basis. Keep an eye on the SPHere student newsletter, and check back here for project descriptions. Spring 2023 internship project descriptions will be posted at the end of November 2022.
Eligibility:
Internships are open to all School of Public Health (SPH) students and undergraduates in the UMN public health minor. If you are an MPH student, you can use the internship to satisfy the Applied Practice requirement with a few additional steps. Undergraduate students in the public health minor can work on projects for up to 200 total hours, and graduate students can work on projects up to 300 total hours.
Benefits to participating in the internship program:
Explore a career path without the commitment of a full or part time job
Work on exciting projects in a public health agency
Learn more about public service and governmental public health
Apply your knowledge and skills from the classroom in the field
Grow a professional network
Satisfy the Applied Practice requirement for MPH students, if applicable
Features that characterize an internship:
A set start and end date (totaling up to 200 hours for undergraduate and 300 for graduate)
A defined work plan with goals and aims
Learning objectives
Supervision and mentorship
Development of both field-related and soft skills
Ongoing communication about the project with site supervisor/preceptor
Evaluation and feedback
Steps in the internship process: 
Apply to the internship program.
A review committee will use a rubric to match students with internship opportunities based on their application materials. Preference will be given to MPH students who plan to use the internship to complete their Applied Practice.
Meet with the host site and SPH to confirm the internship match.
Review project details, work plan, and logistics (hours, start and end date, etc.) with the host site.
Go through applicable orientation and onboarding.
Work diligently throughout the project, maintaining communication with SPH and the host site.
Evaluate your experience through a midpoint and final electronic survey.
Applied Practice
If you would like to use your internship as your Applied Practice, you are responsible for communicating that with the host site, drafting a learning agreement, and enrolling in course credit.
Details can be found on the SPH applied practice website, and questions can be directed to Mercedes Taneja, applied practice coordinator, estra021@umn.edu.