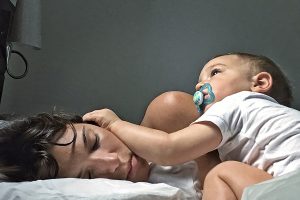 Non-medical use of opioids has skyrocketed.
To further understand the epidemic, SPH Associate Professor and maternal health policy expert Katy Kozhimannil is researching how opioid use affects reproductive-age women, pregnant women, and infants.
She found that 1.5 million reproductive-age women and 50,000 pregnant women across the U.S. reported using prescription opioids for non-medical purposes in the past year. And nearly half of these pregnant women got opioids from their doctor.
A second study found that women who use opioids for non-medical purposes during pregnancy also are more likely to use other substances (such as alcohol or marijuana) and have higher chances of reporting symptoms of depression or anxiety.
A third paper found that this increase in non-medical opioid use during pregnancy has also led to a increase in U.S. babies born with Neonatal Abstinence Syndrome, or opioid withdrawal. From 2003–2014, the number of babies born with opioid withdrawal grew four times in urban areas and seven-fold in rural areas.
"Every infant who is withdrawing has a mom who was exposed to opioids and, possibly, didn't have access to the treatment and support she needed," says Kozhimannil.
"The challenge is that pregnant women can't just stop taking opioids — both because of their dependence, but also because without opioids, a baby could withdraw in utero and possibly die."
The ultimate goal is prevention. "Early recognition of non-medical opioid use can allow for tapering off the drug prior to planned pregnancies. When detected during pregnancy, opioid dependence can be appropriately treated to reduce its pregnancy-related health risks," says Kozhimannil. "This research emphasizes the importance of targeted detection and treatment efforts that address a woman's full range of needs."