The Health Equity Work Group (formerly the Health Disparities Work Group) mission is to give greater visibility to health inequalities research at the University of Minnesota School of Public Health and nationally; develop collaborations with faculty and community partners; and ensure SPH students are well trained to work in a diverse society.
The HEWG meets quarterly and welcomes new members.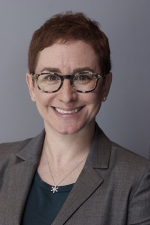 Faculty: Jennifer Linde, PhD
Associate Professor, Division of Epidemiology and Community Health
My work focuses on weight loss and weight gain prevention, with specific interests in behavior monitoring during weight control, intervention development, and public health message delivery. I collaborate across the University and with the community. This includes community-engaged work and consulting with communities of color, care providers, and program developers in clinical, commercial, and non-profit settings. One of my current research projects is in partnership with the Hispanic Advocacy and Community Empowerment through Research (HACER) organization to reduce obesity and diet-related diseases in rural Latino communities. The project will seek to improve dietary habits among Latino individuals in rural Minnesota by understanding the grocery shopping process of Latino families.
Student: Natasha Kataeva
Natasha Kataeva graduated in May 2019 with a Masters in Epidemiology and a minor in Health Equity. Natasha was drawn to the Health Equity Minor following her personal experiences as a first-generation immigrant. Her public health interests include health equity, childhood cancer, vaccine hesitancy, and health communication. 
Read More
Natasha hopes to use her epidemiologic training to pursue a career in Health Communications, with the ultimate goal of improving health outcomes by increasing trust and effective communication between health professionals and the public.