The Health Equity Work Group (formerly the Health Disparities Work Group) mission is to give greater visibility to health inequalities research at the University of Minnesota School of Public Health and nationally; develop collaborations with faculty and community partners; and ensure SPH students are well trained to work in a diverse society.
The HEWG meets quarterly and welcomes new members.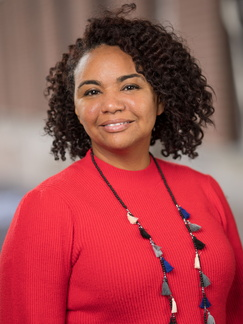 Faculty: Jaime Slaughter-Acey PhD, MPH
Assistant Professor, Division of Epidemiology and Community Health
My research primarily focuses on environmental (social and physical) and psychosocial factors that contribute to women's health across the life course, with emphasis on the maternal and child health (MCH) of marginalized/underserved populations. In particular, I seek to improve our understanding of the social meaning of race and skin color and how they intersect with other aspects of social identity to affect health. My goal is to utilize the knowledge gained from my research to apprise the development of novel and interdisciplinary community-based solutions focused on building healthier and more equitable communities that help us to achieve MCH equity for all.
Read more
My work has a special focus on society's most vulnerable population at risk for violence (especially bullying) and injuries:  children, persons with disabilities, agricultural workers, minorities, and rural populations.
Some of my most recent work has brought attention to the lack of mental health care in farming communities and the high suicide and homicide rates in farmers. Farmers have a suicide rate that is three to five times higher than other occupations. Another area of my work is focused on violence prevention in children. We are currently assessing adverse child experiences and stress biomarkers in hair and toenail samples from children and parents of color in community settings. Based on my body of work, I developed Link in collaboration with experts in mental health and health communications. Link is a trauma-informed program of psychological first aid that uses motivational interviewing techniques (a culturally-sensitive method of communication). We are currently evaluating the effectiveness of Link in reducing the effects of trauma (e.g., suicide and externalizing behaviors), improving connectedness, and increasing resilience.
Student: Ka Her
Ka's previous experience working with youth challenged her to understand the barriers that prevents success for students, which sparked her interest in health equity. This motivated her to step outside the field of education and look at how social determinants impact people and communities. Through the health equity minor, Ka gained a deeper understanding of how social determinants impact communities and the importance of looking at social determinants in conjunction to using an upstream approach to target health inequalities faced by communities. She will continue to use the skills and knowledge gained towards promoting health equity in her future work.
Read more
She currently works at the Minnesota Department of Health on the Child and Adolescent Health team where she works on two adolescent sexual health grant programs. She has created Teen Pregnancy Prevention Month and Let's Talk Month awareness materials as well as completed program evaluation and analyzed data for the grants she supports.
Caitlin has many public health areas she is passionate about including, but not limited to, childhood obesity, women's reproductive health, management of chronic illnesses, nutrition, and global health. After graduation Caitlin would love to work in advancing health equity, breaking down barriers currently present through program development and implementation.