Fellowship Experience
The REACH Applied Epidemiology Training Program supports trainees in developing their research skills and an independent program of research aimed at the promotion of positive weight-related health in populations with the greatest need.
Specifically, trainees will gain the skills needed to:
Address the broad spectrum of eating, activity, and weight-related problems
Work with young people and families during periods of  life that are critical for positive weight-related health
Reduce disparities in weight-related outcomes among ethnically/racially and socioeconomically diverse populations
Conduct both observational and intervention research focused on healthy eating and physical activity
Translate research findings into action through work with key stakeholders, including policymakers and the media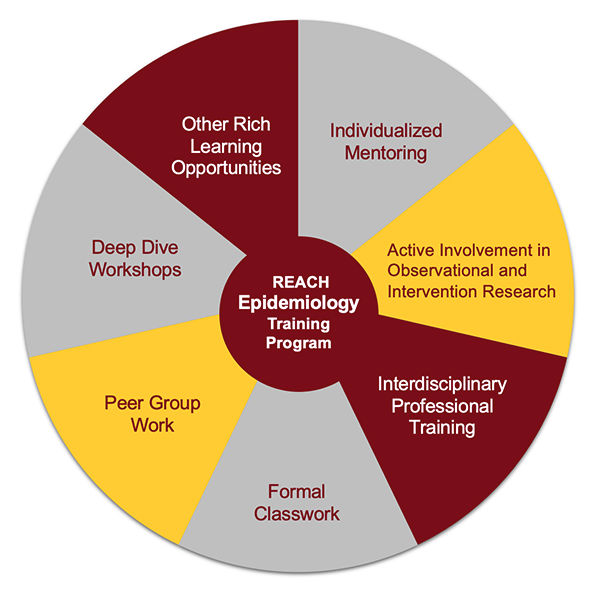 Trainees will receive interdisciplinary professional training through individualized mentorship, active involvement in research projects, course work, peer group work, healthy equity and diversity training, and other learning activities (e.g., workshops, faculty development program). Mentoring will be focused on disseminating study findings via peer-reviewed publications and oral presentations, grantsmanship, research ethics, career development, and communicating research findings to professional audiences and the public.
Training goals are accomplished by matching trainees with faculty mentors who guide trainees in developing the technical expertise and skills they will need to be successful, independent researchers.
The REACH Applied Epidemiology Training Program offers predoctoral training for up to 4 years and postdoctoral training for 2-3 years. It provides tuition benefits, an NIH stipend, and support for scientific meeting travel and other training experiences. For additional program details, download General Information and Policies (PDF).
If you have questions or would like more information on the REACH Applied Epidemiology Training Program, please contact us at REACH-T32@umn.edu.