First, I'd like to know a little bit about you as a person. Where did you grow up? Where did you attend undergrad and what was your degree/area of study? [Caylin] My undergrad was very long, I did six years at the University of Minnesota as a pre-med student and didn't graduate. I took a couple years off to figure out what I wanted to do. Eventually, I went to Century College to get my two-year degree in nursing but decided that I preferred science and biology to clinical care. I loved looking at the issues of the healthcare system and thinking about how they could be improved.

How did you get into public health?
[Caylin] I was working as an EMT and I saw how much of our healthcare system is reactive instead of proactive. I was interested in looking at upstream interventions versus clinical treatment. After finishing my BA in Biology at Metro State University, I knew I wanted to go to grad school but I didn't know exactly what for. So, I got a job as a laboratory assistant back at Century College. While I was working there in the lab, COVID hit. I was put in charge of our department's COVID-19 response and return-to-campus planning. We focused on how to keep our students safe, how to keep the lab running, and how to keep students involved from home with virtual learning. 
When did you realize you wanted to study occupational health?
[Caylin] When I was an assembly manager at a warehouse, I noticed that the people getting injured at work were the people who could least afford it. There were hourly workers, independent contractors, or noncitizen workers, and those who didn't have the resources or strategies to keep injuries from happening. I had a few injuries myself, all of which were preventable. Thankfully, they didn't affect me as much as the ones I had seen from my coworkers. It was frustrating to be constantly responding to these avoidable injuries.

Everyone deserves to be safe at work. Specifically, my interest is in health equity within the workplace. I want to ensure safer work environments for workers who may not have the time or resources to advocate for themselves.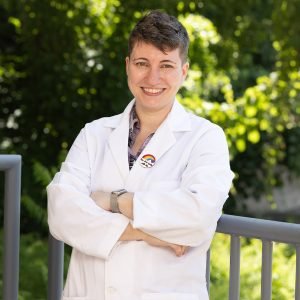 What specific issue, problem, or area of research in public health do you care the most about and why? [Caylin] Health equity in the workplace is a focus area that I'm most interested in. Applying health equity to worker health is an easy transition because employment/economic stability and social context are both recognized social determinants of health. Two of the areas I'm working on are improving psychological safety at work for the LGBTQ+ population, and reducing the impacts of climate change and the resulting poor air quality on populations with the highest rates of occupational injury disparities.
Psychological safety in the workplace is just as important as physical safety, but can be sort of an invisible threat unless you're aware of it or experiencing it. A safe workplace fosters inclusivity, where employees can bring their authentic selves without the fear of discrimination.  These workplaces are more productive, more creative, experience less turnover, and most importantly improve the well being of their employees. 
I'm active with the American Industrial Hygiene Association's (AIHA) PR(IH)DE Committee. We're a volunteer group of industrial hygienists who are working to improve LGBTQ+ policies and practices in the workplace and within our organization. Our volunteer group provides an intentional space for sharing our experiences and learning from the experiences of others, and for producing actionable recommendations and resources that promote inclusivity for our organization and for employers. An inclusive workplace is a healthier workplace. 
How would you like to help address or explore this issue?
[Caylin] The awareness of inclusive practices in the workplace is something I am working towards. I've been encouraging the use of pronouns and making sure people are comfortable using them.  Providing resources, encouraging colleagues and classmates to learn about implicit and explicit biases. I work hard to create a non-judgemental space for questions and curiosity so these conversations are more accessible. I'm always a proponent of being a visible ally, if you feel safe doing so. Including your pronouns in your email signature and on your business cards, asking about or advocating for gender-neutral restrooms in your workplace and at venues if you're involved in event planning. Request bias training for your department, or participate in a community ally training to learn more strategies. Small actions like those usually don't create extra work for anybody but they can do a lot to make your workplace safer and more inclusive. 
What are the reasons why you chose your program? What do you like about it? [Caylin] My tuition is covered by a grant from the Midwest Center Occupational Health and Safety education (MCOHS) funded by the National Institute for Occupational Safety and Health (NIOSH). It represents the CDC's investment in workplace safety and injury prevention. I really appreciate the involvement opportunities that are offered at SPH. The core curriculum did a good job of laying the groundwork for being a public health professional and what that means.
I'm in my second year as a student senator and I've loved the opportunity to shape the direction of SPH and have a say in where it's headed. I've really appreciated that. There are so many student groups at the U that there's a lot of opportunities to get involved – especially in terms of service groups. I've made many life-long friends. It's been great to get the word out about my program since a lot of students haven't heard of it. 
What has been your favorite class so far?
[Caylin] I'm a really hands-on person and I like lab classes where you get to work with instrumentation or use tools. I've really enjoyed PubH 6175 (Environmental Measurements Laboratory) and PubH 6192 (Measurement and Properties of Air Contaminants) with Professor Pete Raynor.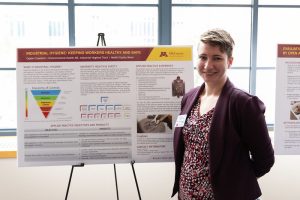 In what ways is the school a good fit for you? [Caylin] Being able to build a network here in the Twin Cities, especially since I want to stay here long-term, has been a great experience. I've been able to do internships on and off campus and have had lots of other opportunities to expand my skills. I live close to campus and being able to bike to campus and have a productive way to get exercise has been a big benefit. In all of my courses at SPH, I've been really humbled by the expertise of our faculty. Our professors are national experts in their fields and I've really appreciated having access to them and their networks. 
Are you familiar with the school's Strategic Plan for Antiracism? [Caylin] I am! SPAR was one of the main reasons I chose to attend the U of M for graduate school.

What are you most excited about in the plan?
[Caylin] I was immediately drawn to the clearly defined goals and the scope of the Strategic Plan for Antiracism. The plan's presentation is accessible to a wide range of audiences and the defined roles for faculty, students, staff, alumni, and college leadership make this plan actionable and attainable. I am excited about what this plan means for the future of the University of Minnesota and the School of Public Health. I think it provides an accessible  framework for other colleges and institutions to use as a guide for their own antiracism plans. 
What do you like about being in Minnesota?
[Caylin] I love being outdoors and Minnesota has some of the best outdoor adventure opportunities. I bike to campus and appreciate the bike infrastructure that exists around the Twin Cities. Our State Parks are phenomenal and are becoming more and more accessible every year. As of this year, 13 parks have all-terrain mobility assistance chairs available to use, free of charge. Weeklong State Park entrance passes are available at many metro libraries. There is a plethora of green spaces scattered throughout the Twin Cities, and the Twin Cities metro area is a convergence point of THREE different ecological biomes, with a fourth located in northern Minnesota. I think Minnesota is a great example of how both ecological diversity and human diversity make for stronger and more resilient communities.