"Coming from about 6,000 miles to the UMN for this program has been worthwhile and my expectations are being met so far."
First, I'd like to know a little bit about you as a person. Where did you grow up? Where did you attend undergrad and what was your degree/area of study? [Itoro] I am from Akwa-Ibom State in Nigeria. I grew up in Calabar situated in Cross River State (Nigeria's first capital). I studied at the University of Calabar, where I obtained a bachelor's degree in biochemistry. Some years later, I got a master's degree in clinical biochemistry at the same school.
What specific issue, problem, or area of research in public health do you care the most about and why? [Itoro] I care about secondhand exposure to tobacco smoke particularly from hookah pipes because of the increasingly widespread use of hookah pipes in public spaces and homes and also because of the misperceptions about its safety; there is a high prevalence of its usage among teens and even pregnant women. What I find really disturbing is that non-smokers that work in restaurants or bars where hookah pipes are being used are equally at risk of developing health conditions associated with tobacco smoke as those in the same household as hookah users through secondhand exposure. Unfortunately, even with the increasing prevalence of hookah use and its associated health risks, there are knowledge gaps regarding this issue.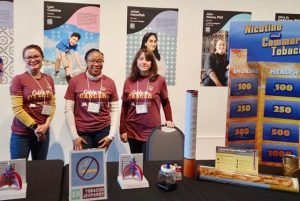 How would you like to help address or explore this issue? [Itoro] There are currently fewer policies restricting the use of hookah pipes when compared to cigarettes, yet the same types of carcinogens and toxicants found in cigarette smoke are also  present in hookah tobacco smoke. I believe that policies can be influenced by evidence-based research. So, I aim to research the cancer-causing agents found in secondhand exposures to hookah tobacco smoke and to conduct chemical characterization of these carcinogens based on their particle sizes in the smoke fractions, with reference to how they are deposited in the head and neck area including the lungs. This is to understand the associated risk of developing cancers of the aerodigestive tract from secondhand exposure to hookah tobacco smoke, and get this information to policymakers. 
Are you currently involved in any public health research or professional work? [Itoro] Yes! I work with my doctoral advisor, Professor Irina Stepanov at the Masonic Cancer Center, we carry out research on biomarkers of exposure to air pollutants and harmful chemicals from tobacco smoke/products. I am currently working on a pilot study here in Minneapolis to test the use of novel personal air samplers and virtual impactors (designed by Chris Hogan) for chemical characterization of air pollution in preparation for an Air Pollution Study in India. I have also participated as a volunteer to create awareness on the harmful effects of tobacco use at the Community Health Fair/Lung Cancer Screening event at M Health Fairview Clinics and Surgery Center; the Ascend Event at the Masonic Cancer Center, and the Goldy vs. Cancer event at the Museum of Science.
Why did you choose to come to the U of M School of Public Health? [Itoro] It was easy for me to choose the U of M out of the other schools I got admitted into. Firstly, because Professor Stepanov's research works align with my research aspirations. I knew that her mentorship would avail me of the skills, knowledge, and exposure to advanced and innovative techniques in my research area. Secondly, the School of Public Health at UMN is highly ranked and fosters a multidisciplinary approach to learning and research, which accommodates my background across different disciplines. 
What are the reasons why you chose your program? What do you like about it? [Itoro] I chose Environmental and Occupational Epidemiology, which is my area of concentration under Environmental Health Sciences, because I get to learn how I can influence healthcare policies on environmental and occupational exposures across diverse populations using epidemiological approaches while leveraging my biochemical background. I like how I can tailor my course selections within the program to specifically meet my research needs and career goals. Coming from about 6,000 miles to the UMN for this program has been worthwhile and my expectations are being met so far.
What has been your favorite class so far? [Itoro] My favorite class so far is Foundations of Public Health with Professor Kathleen Call because aside from learning about the core concepts of public health, this class addressed how deep-rooted issues such as disparities, inequities, and structural racism affect health outcomes in marginalized communities and the need to change these narratives. Although some topics seemed overwhelming for me, I could understand the need to encourage discussions on these sensitive issues. I could also see that efforts were being made to groom future public health leaders that will influence the necessary changes and policies at the structural level.

What about our Strategic Plan for Antiracism makes you the most excited? [Itoro] For one, every aspect of the plan is important and interconnected. I am most excited about its goal to create and sustain support for students from marginalized groups by providing resources for counseling, provision of mental healthcare, accessibility to resources for personal growth as well as networking. This will definitely facilitate a successful and productive learning experience for students on campus and also promote equity.
What do you like about being in Minnesota? [Itoro] I love the burst of activities in Minnesota during the summer. I am grateful for every warm day. I love the cultural diversity that exists here. I also love the beauty of the landscapes during fall – it inspires my creativity because I love to draw, paint, and create art pieces. Fortunately for me, there are a lot of arts resources here that I can explore.