TH Tran is a Dual Degree MBA/MHA student at the University of Minnesota School of Public Health and the Carlson School of Management. Her interests include healthcare systems, medical innovation, and the role culture plays in public health. Read her responses to the questions below to learn more about her experience as a University of Minnesota School of Public Health student.
What drew you to the field of public health?
[TH] I attended Transylvania University in Lexington, Kentucky and graduated magna cum laude with a degree in accounting. I was both an accounting and a pre-med student. A lot of my family members work in healthcare so that's always been a part of my path. While in undergrad, I was president of the pre-health club and I spent a lot of my summers volunteering at the local hospital. After studying abroad in Europe, I asked myself what I really wanted to do with my degree. Against my parents' wishes, instead of applying to medical school, I started working in a suboxone clinic helping people with drug addictions. 
At the clinic, I got to witness first-hand how these populations had such difficulty with their treatment due to  social determinants of health.This population has so much difficulty with their treatment because of housing instability, food instability, no social support, and not being aware of available resources. That made me feel like I wanted to be part of helping the system work differently.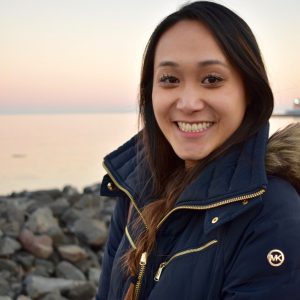 What aspects of public health are you most interested in?
[TH] What I really like about public health is spreading awareness and crafting really targeted messaging that promote health and wellness. It's something that connects and engages all people and it drives important conversations. Public health communications have a really interesting tie to culture. It's unique to other industries because of the way it embeds culture into the solution. Our cultural differences help us identify and differentiate issues related to health and that's something we have to be aware of as public health professionals.
What have you most enjoyed studying as a student here at SPH?
Studying the social determinants of health is what really drew me into pursuing a career in public health. Understanding our social responsibilities has always been really interesting to me. I've always had this bend towards social responsibility that I didn't fully understand until I became more involved as a public health student. 
What specific issue, problem, or area of research do you care the most about and why?
[TH] Medical innovation has been a strong interest of mind and something I keep approaching and looking for in the work that I do. In school, as part of a class with the UMN Carlson School Medical Industry Leadership Institute (MILI), we work with inventors to analyze the efficacy of medical inventions while factoring in everything from market research, financial analysis, technology, the regulatory pathway, and how it might change the workflow within a healthcare system.
What are the main reasons why you chose your program? What do you like about it?
[TH] I became really interested in the healthcare system as a whole and working on the system as a whole. When delivering healthcare, we should think about the rules and regulations we work within. I chose the MBA program through Carlson in addition to the School of Public Health MHA program because I wanted to be able to apply my business knowledge as well as learn more about medical technology. Minneapolis is home to Medical Alley and that was one of the biggest reasons I chose to come to the University of Minnesota School of Public Health.