"The program has been super flexible — kind of like a choose-your-own-adventure journey...I have learned in the supportive environments here how to embrace my identities and advocate for myself as a first-generation college student and Asian American."
First, I'd like to know a little bit about you as a person. Where did you grow up? Where did you attend undergrad and what was your degree/area of study?
[Thuy] I was born in Ho Chi Minh City, Vietnam and grew up in Birmingham, Alabama where I did my studies at the University of Alabama at Birmingham (UAB). I obtained my bachelor of science in biology with a concentration in molecular biology and a minor in chemistry. I also completed my master of public health in epidemiology with a certificate in global health at UAB.
What drew you to public health? OR How did you become interested in public health? OR What was that moment in your life when you decided you wanted to study public health?
[Thuy] I would describe my journey to public health as serendipitous. I went to undergrad thinking that I was going to go to medical school, and I signed up for a mentorship program during my sophomore year. But instead of being set up with an MD, I was set up with a public health practitioner who introduced me to public health during the start of the H1N1 pandemic. I took a course about the origins of epidemics and felt like I had finally found my calling. This is also why giving and receiving mentorship is a core value of mine.
What specific issue, problem, or area of research in public health do you care the most about and why?
[Thuy] I knew I wanted to work with infectious diseases early in my career. When I first started working at the Alabama Department of Public Health, I was assigned the role of foodborne epidemiologist. I had no idea how pivotal that assignment would be. From local foodborne outbreaks to national recalls we see on the news, public health starts with local and state-level surveillance and investigation; I was and still am excited to contribute. Food is an important aspect of many cultures and as I continue to work in this field, I'd like to think that I am helping to protect the food traditions that connect us to our heritage and ancestors.
How would you like to help address or explore this issue?
[Thuy] Public health food safety is my passion. My research is focused on what is happening in the field. What are some model practices we, as public health practitioners, can use to prevent illness? And for those illnesses that we were not able to prevent, how can we find and learn from them to prevent them in the future? My research started by looking at restaurant inspections and how that inspection information is given to the public, whether it be through posting at the restaurant, online, or not at all. I was able to find that these practices impact the number of foodborne illness outbreaks. That is just one example of how I am working to improve public health practice through research.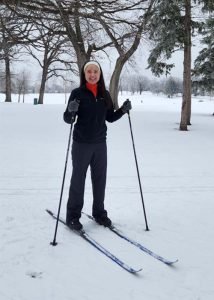 Why did you choose to come to the U of M School of Public Health? 
[Thuy] SPH's partnership with the Minnesota Department of Health to form the Minnesota Integrated Food Safety Center of Excellence really shows the benefits of bridging the gap between public health practice and academic research. The partnership is transformative for public-health, food-safety practice nationwide.  I met my now-advisor and mentor, Craig Hedberg, while I was working as a project manager and he convinced me that there was no better institution to further both my education and career than SPH — and I absolutely agree!
In what ways is the school a good fit for you?
[Thuy] The program has been super flexible — kind of like a choose-your-own-adventure journey. I enjoy the flexibility to learn and grow in a way that works for me. There have also been a lot of opportunities to connect and collaborate with others. Through these opportunities, I have been able to grow both educationally and, just as importantly, personally. I have learned in the supportive environments here how to embrace my identities and advocate for myself as a first-generation college student and Asian American.
What are you most excited about the school's Strategic Plan for Antiracism?
[Thuy] Just the fact that we have a plan and are having these important and difficult conversations. I appreciate that there are shared responsibilities laid out in the plan.
What is your vision for an antiracist school of public health?
[Thuy] I envision a school that is so firmly rooted in the concept of antiracism that its faculty, staff, students, and alumni go out into the world empowered to call out injustice and racism when they see it. We need to help provide our community with the tools and knowledge to act, too. I envision antiracism, and really any -ism, to be ingrained into every part of our curriculum because it is not something that can be practiced in silos. To do this, we first must challenge our own biases and get used to having uncomfortable conversations. Antiracism must, essentially, be infectious.
What do you like about being in Minnesota?
[Thuy] I love Minnesota! I think the Twin Cities is a community worth investing in, especially because they are investing in their residents. For example, I always wanted to take ballet classes growing up but never had the opportunity. Through the Saint Paul Community Education Classes (Minneapolis has these too), I was able to take adult ballet classes this past year to live out that childhood dream. There are so many different and approachable classes. I feel like the Cities are investing in me and I'm happy to return the favor.