Zachary Zirnhelt is an Environmental Health MPH student at the University of Minnesota School of Public Health and serves as a student worker with the Minnesota Department of Health in the Infectious Disease Epidemiology, Prevention and Control Division. Learn more about his COVID-19 experience by reading his responses to the questions below.
What drew you to the field of public health?
[ZACH] Growing up I had an unfortunate history of experiencing various gastrointestinal diseases. As I got older, I realized all three of the diseases I experienced were preventable. My passion for public health stems from knowing how I felt when ill, and not wanting anyone else to feel that way.

How are you coping with COVID-19?
[ZACH] I keep reminding myself that this experience is a marathon, not a sprint. I am not rushing to produce my highest quality work or expecting to seamlessly adjust to a new schedule. A pandemic is unfamiliar territory and brings new stresses, especially after moving away to a new school and living alone without any family or old friends nearby. By staying relaxed, informed and doing plenty of video calling to loved ones for social support, I remain hopeful even through drastic daily changes. Not to mention that once I am able to embrace the new normal, I might have time to play the drums again (a much neglected hobby).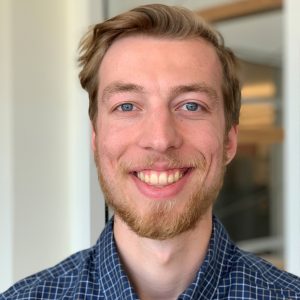 How are you tackling the COVID-19 outbreak?
[ZACH] I am a student worker at the Minnesota Department of Health (MDH) in the Infectious Disease Epidemiology, Prevention and Control Division. Normally I work on foodborne illness surveillance and outbreak investigations, but now I spend most of my time on COVID-19 response. When the first Minnesota resident tested positive for the virus I was answering questions from the public on the MDH hotline. Most recently I have been working on case investigations and contact (of cases) tracing. It is so important to educate the public about prevention and control, especially those with symptoms or those who have had a high risk exposure.
I am gaining a unique experience — more than I ever could have imagined — working through a pandemic at MDH. COVID-19 response was not part of the job description when I originally signed on, but I am very fortunate to be part of the response. Additionally, I will be able to apply what I learn throughout this process to any of my future aspirations in the field of public health.
How has your public health education prepared you for this situation?
[ZACH] My public health education has most notably allowed me to practice effective communication skills and build an understanding of disease specific transmission parameters.
Do you think COVID-19 will make more people (students) interested in public health?
[ZACH] Absolutely. Common public health knowledge and terminology has become something that the average person wants to be aware of. In the past when I would tell people I am interested in epidemiology, they assumed I was talking about working with skin because of the similarities with the word "epidermis." Today, epidemiologists are making a name for themselves by working harder than ever doing what they've always done, studying the distribution and determinants of health related events/diseases, but in response to COVID-19.