Home » Academics » Degrees & Programs » MPH » Community Health Promotion MPH
Build healthier communities. Change the world.
The Community Health Promotion MPH program at the University of Minnesota School of Public Health trains students to work with populations to improve health. Our curriculum emphasizes the importance of using research and social science to assess population behavioral health patterns and psychosocial risk factors; design community-wide prevention and intervention programs; influence health policies; and evaluating outcomes of behavioral health change.
Community Health Promotion MPH Info Sheet (PDF)
Advantages of the Community Health Promotion MPH
Connections. Partnerships with Twin Cities communities, health departments, nonprofit organizations and policy makers provide opportunities for collaboration and real-world experience.
Supportive environment. Students are supported through a cohort peer model, accessible faculty, and a network of more than 10,000 alumni who are dedicated to student success.
Comprehensive curriculum. Students are well-prepared with the skills needed to design, advocate for, and evaluate efforts to promote health behaviors and social conditions for populations.
Personalized. Design your degree to suit your needs through electives that allow you to explore topics, populations, or skills-building.
Dual-Degree Options
MPH/JD
A partnership between the Community Health Promotion MPH program and the JD program at the University of Minnesota Law School. Contact Kathryn Schwartz-Eckhardt (epichstu@umn.edu, 612-626-8802), for more information.
MPH/MSW
A partnership between the Community Health Promotion MPH program and the MSW program at the University of Minnesota School of Social Work. Contact Kathryn Schwartz-Eckhardt (epichstu@umn.edu, 612-626-8802), for more information.
This 2-year, full-time program requires a minimum of 48 credits, including electives chosen in consultation with the adviser. Part-time enrollment is also possible, and part-time students have up to five years to complete the degree.
Students learn how to influence policy and public opinion on health issues, develop community-based programs to prevent disease, work on issues related to a specific population, and advocate for and evaluate efforts to promote healthy behaviors.
This program gives students the flexibility to tailor the curriculum to meet their individual needs and interests. Faculty focus on multiple public health issues including: obesity, tobacco/alcohol, infectious disease, LGBTQ health, global health, and public health policy.
The classroom experience is brought to life through a required field experience. Students conduct professional-level research projects in local, state, national and international organizations.
Detailed Community Health Promotion MPH Curriculum Information (PDF)
Students from any undergraduate background are encouraged to apply to the Community Health Promotion MPH program, including recent graduates, mid-career professionals wanting to increase mobility in their current position, or those looking to change careers completely. The emphasis on practitioner-based learning is a great fit for returned Peace Corps volunteers and AmeriCorp volunteers.
Admissions Requirements (General)
Program-specific Prerequisites
(Note: these requirements are in addition to the general admissions requirements above)
College-level courses in the following areas:

Social and behavioral sciences (at least 3 courses)
Introductory statistics (1 course)
One year of paid or volunteer experience in a public health, social service, or community setting.
Admission Averages
| | Average score of admitted student | Minimum score |
| --- | --- | --- |
| GPA | 3.58 | 3.0 |
| GRE Combined | 313 | 300 |
| GRE Analytical Writing | 4.6 | 3.5 |
The Community Health Promotion MPH program prepares students to take on the world's most pressing public health challenges. Tuition at SPH remains one of the lowest among top 10 U.S. schools of public health. In fact, we have the lowest out-of-state tuition in the top 10, giving non-resident students access to expert faculty, education, and research at the lowest financial investment.
Tuition & Fees
Funding
See a full list of scholarships available to public health students
As a Community Health Promotion MPH student, you'll work alongside leading research scholars in community health issues, such as alcohol, obesity, infectious diseases, LGBTQ health, and public health policy.
See Community Health Promotion Faculty
Learn More about Research in Epidemiology & Community Health
Faculty Research Highlights
Dr. Theresa Osypuk is a social epidemiologist who examines why place influences health and health disparities, including the roles of racial residential segregation, neighborhood context and social policies.
Dr. Rhonda Jones-Webb's research focuses on alcohol epidemiology and policy with a special focus on race, class and neighborhood influences. She is a leading scholar on alcohol use and alcohol-related problems among African Americans.
Students are emerged in the community through field experiences. Recent Field Experiences include:
Examining data on LGBTQ health disparities for Rainbow Health Initiative;
Assist with the establishment of Farm to School nutrition education programs for Minneapolis Public Schools;
Work with the Uganda Village Project to assess community needs and to lay the groundwork for public health and development interventions needed in that community.
Job Outlook
The national job market for community health promotion positions is extremely strong. According to the U.S. Department of Labor, faster than average job growth is expected and graduate degrees are preferred by employers in public health and for non-entry-level positions. This growth is primarily due to an increase in opportunities and the variety of settings health promotion graduates are needed.
What was once a profession practiced mainly in classrooms and health facilities, the profession has extended into all levels of government, voluntary and social service agencies, medical care organizations, workplaces, schools, and advocacy organizations.
What Do Community Health Professionals Do?
The Community Health Promotion MPH prepares students for successful careers across the globe to:
Use theories of behavior and social change to inform the planning and evaluation of health interventions.
Promote healthy behaviors and social conditions.
Assess the health status of populations and communities.
Design and implement effective interventions targeting health behaviors.
Collaborate and manage community and behavioral health programs and services.
Graduates can also go on to pursue a PhD in social and behavioral epidemiology.
Examples of Positions Held by Recent Graduates of the Community Health Promotion MPH Program
University of Minnesota
Health Promotion Specialist
Robert Wood Johnson Foundation (Minnesota)
Communications Associate
University of California San Francisco Medical Center
Program Coordinator
City of Saint Paul (Minnesota)
Government Relations Coordinator
BlueCross and BlueShield of Minnesota Foundation
Executive Director
Minnesota Department of Health
Evaluation Specialist
Twin Cities Food Justice (Minnesota)
Community Outreach Coordinator
Hennepin County Medical Center (Minnesota)
Parent Educator
Acumen, LLC (San Francisco, California)
Health Data & Policy Analyst
Community Health Plan of Washington (Seattle, Washington)
Senior Analyst
Water.org (Minnesota)
Monitoring & Evaluation Manager
HealthPartners (Minnesota)
Public Health Program Manager
Application Deadline
For Fall Admission: May 1
Scholarship Consideration Deadline: December 1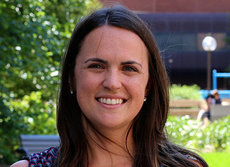 I care about people and want to see lives improved through public health policy and effective and engaging health programs.

Lauren O'Brien, MPH 2015