Student Senate
Who We Are
The Student Senate is the governing body for students in the School of Public Health. The Student Senate provides a voice for students and allows students to get involved in student government, plan social activities, network with departments, work with faculty, demonstrate leadership skills, and develop creative solutions to new challenges.
Our Mission
The mission of the School of Public Health Student Senate at the University of Minnesota is to serve as a liaison between the students, faculty, and staff and to assist student organizations in hosting school-wide events.
Meet the Executive Board
President: Jayda Palmer MPH, Epidemiology
Vice President: Audrey Hanson MPH, Maternal and Child Health
Director of Finance: Alexia Martin MPH, Epidemiology
Director of Communications: Bharat Balyan MPH, Environmental Health
Secretary: Valeria Guidolin PhD, Environmental Health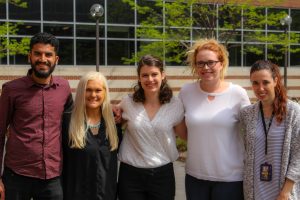 Pictured from left: Bharat, Alexia, Audrey, Jayda, Valeria
How to Get Involved
Meetings: Our general meetings are held on the first Wednesday of the month from 7:00pm – 8:00pm starting Feb. 6, 2019. Location Mayo 3-125. All SPH Students are welcome to attend meetings.
Events: SPH Student Senate welcomes all student input on future events. If you have an idea for an event you would like to see happen, please contact SPHSS via email or attend a general meeting.
Info and deadlines for SPH Student Senate grants.
View minutes from our previous meetings.
We'd Love to Hear From You!
We're looking to hear about your perceptions of Senate are and what you would like to see from Senate this year. We welcome any and all creative ideas, comments, and constructive feedback you may have on how we can create a better learning environment for all students at the School of Public Health. Please find the survey link here.