"As an educator and physician, I see my role as teaching others and practicing what I preach. One person can be impactful, but to make true and lasting change [against racism], collective work and significant commitment is necessary."
First, I'd like to know a little bit about you as a person. Where did you grow up? Where did you attend undergrad and what was your degree/area of study? (Mirna) I was born in Lebanon, then moved to Cleveland, OH with my family when I was eight years old. I was valedictorian of my high school and then went on to major in biology and chemistry at John Carroll University in Ohio and earned my medical degree from the Medical University of Ohio at Toledo. I did my residency and fellowship training at the Cleveland Clinic and moved to Minneapolis with my husband Henri in 2010. That year, I joined the University of Minnesota as an Assistant Professor of Medicine.
What drew you to public health? (Mirna) I am a nephrologist, or a kidney doctor. I decided to pursue an additional degree in public health because of the social challenges that I see my patients experience. As I got more involved in clinical leadership, I recognized the opportunities to improve outcomes and decrease disparities for my patients, especially considering that people of color are disproportionately impacted by kidney disease. I asked myself, "How can we better serve our patients?" I realized that it is not just an individual health problem; it's a systemic issue. So I wanted to be able to help improve health outcomes both in my day-to-day work and through upstream measures.
What specific issue, problem, or area of research in public health do you care the most about and why? (Mirna) I am really interested in improving health outcomes by more strategically using healthcare dollars. We know that treating kidney disease is expensive, as patients normally have several comorbidities. If we act early to prevent or make an early diagnosis of kidney disease, we could delay onset and slow progression of the disease. Kidney disease and failure need high-cost care as they also increase cardiovascular disease. I want to help people live healthier and empower them to take better care of their health. That would also open up other opportunities to use funds designated to kidney-related healthcare for other priorities, like research and community outreach.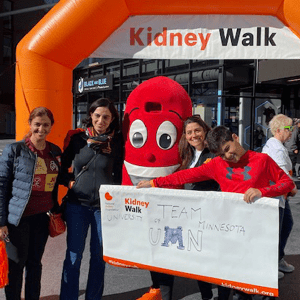 Are you currently involved in any public health research or professional work? (Mirna) I am involved with the Minnesota Chapter of National Kidney Foundation Medical Advisory Board and serve as the patient education chair. We do community outreach and screening events, and have important conversations on how we can make a difference with education, awareness, and obtaining a kidney transplant. At the University of Minnesota, I serve on multiple committees that address quality, safety, and disparities. I have also been involved in quality improvement projects in my division and recently led two large system-wide projects to increase awareness and improve kidney failure transitions.  
Why did you choose to come to the U of M School of Public Health? (Mirna) I work at the University, and I know that SPH has a top-ranked program in Health Administration, so it worked out perfectly for me. As someone who tries to be 110 percent involved in everything I do, going back to school and broadening my knowledge about the healthcare system has helped me become a better, more informed physician and patient advocate.
What has been your favorite class so far? (Mirna) Innovation of Healthcare Services (PUBH7565), which I took in my first semester, exposed me to leading experts and executives from across the country — some of whom were alumni of the University. I had wonderful discussions with healthcare leaders, and learned about the challenges and opportunities of this field. We had phenomenal and inspiring speakers each week who shared their accomplishments and challenges.  It was different from the usual coursework and I felt invigorated by the innovations and opportunities.
In what ways is the school a good fit for you? (Mirna) In the twelve years I have spent on campus in Minnesota, I have been amazed at how much has happened in our schools and communities. Studying at the same university that I teach at has not just been convenient, but has helped me build a sense of pride in my work. I feel privileged to work here, and have truly enjoyed learning new things and thinning about the healthcare system more broadly. I am excited to apply my knowledge both at work and in the community I serve.
What is your vision for an antiracist school of public health? (Mirna) The first step is to acknowledge how racism is alive and well. I think that requires engaging with people at all levels and working collaboratively against racist structures. As an educator and physician, I see my role as teaching others and practicing what I preach. I want to help empower others and increase awareness and understanding about racism. One person can be impactful, but to make true and lasting change, collective work and significant commitment is necessary.
What do you like about being in Minnesota? (Mirna) I like that the Twin Cities are big enough to have all the cultural things, but small enough to have a strong sense of community. I feel safe and feel the cities are vibrant and friendly. It is a great place to raise a family, and I feel like my kids have a lot of opportunities and great schools. I have taken up some gardening (during COVID) and I love our beautiful summers! And although I would rather be on a beach at times, I have come to embrace the winters with fun sports and activities. I do enjoy having the four seasons and am teaching my kids to appreciate nature and the outdoors.