"My undergraduate degree is in dietetics and it's clear to me that nutrition-related issues are rooted in the homes and communities of those we serve.
I am deeply passionate about giving the community tools to better health and I believe this is done through the ability to access and make good, healthy food.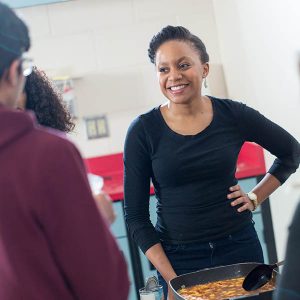 I also have an underlying personal value of service. Being drawn toward places where I can help others, it's no coincidence that the area of public health spoke to me in a unique way.
Public health allows me to combine my interests and values in my work.
An example is I have always loved cooking and have wanted to help others through that skill/talent. With the tools I got from my coursework in Nutrition and Public Health, I was able to create a 5-week cooking class curriculum that I taught at a local NGO in St. Paul to youth between 14 and 18 years old. This experience in turn became my master's project — you can't get that in other areas and that's why public health allows me to truly express myself while working in a career that I love."