"I'm starting to see workers pay more attention to how respiratory protection works, what it does, and what they need to do to use it effectively."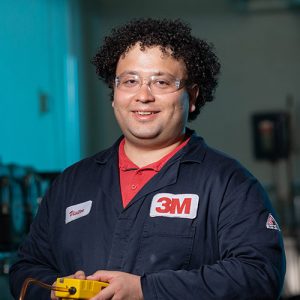 As an undergraduate studying chemical engineering at UCLA, Sergio Arce cared deeply about the environment. A principle worry for him were microbeads, tiny plastic particles that are used in a variety of products. Banned in many countries around the world, microbeads are a significant environmental pollutant. Arce imagined a future career devoted to eliminating microbeads from products such as shampoo, lotions, and drugs. An internship with 3M brought Arce to Minnesota, where he worked with professionals on environmental remediation and laboratory safety. It was during this time at 3M that Arce learned about the field of industrial hygiene, a professional path that would allow him to serve others and spend his energy working for a good cause.
During one of his two undergraduate internships at 3M, Arce connected with the University of Minnesota School of Public Health industrial hygiene program director Professor Pete Raynor. Raynor helped Arce decide to pursue an MS degree in industrial hygiene. For Arce, the greatest benefits of attending the industrial hygiene program at the School of Public Health was the access to faculty experts, small class sizes, and partnerships with local companies. He received his degree in 2015.
Arce joined 3M in 2013. Today, he works on a team of nine, with three other industrial hygienists and five safety specialists supporting a facility of 800 employees that he likens to a "technology hub" where new processes or products developed at 3M labs begin their scale-up process. He is responsible for the site's respiratory protection program, with support of the team. "My role is to make sure that workers are able to do their jobs safely," he says. "I really enjoy interacting with people and explaining to them how these really technical things work and using terms that non-technical people can understand."
His degree from SPH allowed for career growth at 3M. "I have come to learn and appreciate the high quality education I received from SPH, especially critical thinking," he says.
Reflecting on his work at 3M, Arce says, "I like that my job is a balance between very technical work and interpersonal relationships. I use a scientific understanding of chemical exposures and how particles fly in the air to keep people safe at work. I also get to use cool gadgets to collect these samples."
"Prior to the pandemic, my job was to understand OSHA requirements and make sure we met them as a company. Many of the day-to-day questions I fielded from employees were about respiratory protection and glove types for different chemicals being handled. Now I get a lot of questions about what kind of PPE [personal protective equipment] they need to be safe at work."
Arce is hopeful that education regarding PPEs has improved as a result of the pandemic. "I'm starting to see workers pay more attention to how respiratory protection works, what it does, and what they need to do to use it effectively," he says. "It's so important for people to understand this kind of protection, so they feel empowered to make good decisions to keep themselves safe and protected."