More than five million people in the U.S. have Alzheimer's disease or a related dementia and often receive care that is poorly coordinated, expensive, and ultimately, ineffective. To overcome this challenge, researchers with the School of Public Health are participating in a new, nationwide project providing infrastructure and support to investigators and health care systems evaluating up to 40 promising, innovative approaches to memory loss care in "real-world" conditions. The project, called the National Institute on Aging (NIA) IMbedded Pragmatic Alzheimer's Disease (AD) and AD-Related Dementias (AD/ADRD) Clinical Trials (IMPACT) Collaboratory, aims to accelerate the implementation and delivery of promising care strategies to people living with Alzheimer's disease and their caregivers.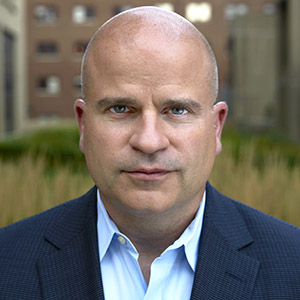 "The traditional timeline from basic research to implementing an effective intervention in health care systems, community programs, or similar settings can take up to 17 years," says Joseph E. Gaugler, Robert L. Kane Endowed Chair in Long-Term Care and Aging and professor. "It's imperative that we address the many unmet needs of families living with dementia care and shortening the research timeline with promising approaches that demonstrate real-world potential."
Gaugler is co-leading the project's Dissemination and Implementation Core with Laura Gitlin from Drexel University. The core is responsible for assisting investigators and key stakeholders, including health care systems, caregivers, and providers, to integrate the most promising dementia care interventions into practice.
Gaugler and Gitlin are currently principal investigators on a five-year National Institute on Aging study to embed dementia care supports in adult day services throughout the United States. Gaugler also has extensive background in conducting dementia care evaluations in practice and applying various methodologies to do so.
"We will assist Collaboratory investigators to consider dissemination and implementation issues throughout the life cycle of their projects — not just at the conclusion of their interventions," says Gaugler. "Another main activity of the core is to conduct systematic reviews of the literature to identify the state of the art in dissemination and implementation of dementia care interventions."
The School of Public Health will be involved in the project in several additional ways and will receive more than $800K in funding. In Year 2 of the Collaboratory, two full-time graduate research assistants will join Gaugler's core and assist in various efforts. Coinciding with these efforts, Gaugler will teach a new doctoral seminar in Spring of 2020, called "PUBH 8816 Implementation Science." The course, along with the activities in the Dissemination and Implementation Core, will offer opportunities to blend education and implementation science for PhD students in the school and beyond.