Donald Vesley (PhD '68) dedicated his life to the field of environmental health, specifically industrial hygiene. As a professor at the University of Minnesota School of Public Health for more than 40 years, his contributions to the public health field were innumerable.
"It was his everything…his life," commented Catherine Vesley, Vesley's wife, and now, widow. In 2018, after Prof. Vesley lost a long battle with cancer, Mrs. Vesley knew she wanted to do more to honor his legacy at the School of Public Health.
So, to help future generations of students, Mrs. Vesley established the Donald and Catherine Vesley Scholarship for Environmental Health.
"It was something worth doing. Don dedicated his life to public health, and I happen to agree it's a very important area of study. It does a great deal of good for people all over the world, of every walk of life," Mrs. Vesley shared.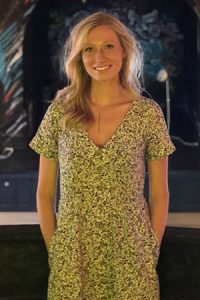 The first Vesley Scholarship award was given this past fall to PhD student Ali Strickland.
Strickland said she is honored to be the first Vesley scholar.
"Receiving this scholarship is much more than just a financial gain for me. Being considered qualified by my program for any sort of merit-based award is a huge privilege — one that I do not take lightly. Academic pursuits take time and energy, but we don't always talk about the personal commitments research requires. Accepting this scholarship is a reminder that this work is worthwhile because researchers, such as Dr. Vesley, have demonstrated the positive impact of making commitments to public health," said Strickland.
Strickland's research interests include making science based ethical considerations for marginalized communities, mitigating disease spread, and ensuring safety in food supply to name a few.
"Our world continues to grow, shift, and warm despite human ability to adapt to these changes. Public health is the essential interface of knowledge and humanitarian efforts which aims to bridge those gaps," said Strickland.
Strickland's studies in SPH have enabled her to explore these areas, and contribute to the current understanding of the changing world.
To join the Vesleys in helping future generations of SPH students, visit University of Minnesota Foundation or contact sph-alum@umn.edu.