The Minnesota Learning Health System Mentored Career Development Program is excited to welcome a fourth cohort of scholars to join the program in January, 2021. The MN-LHS K12 scholar training program is one of 11 institutions funded by the Agency for Healthcare Research and Quality (AHRQ) and the Patient-Centered Outcomes Research Institute (PCORI) to support the training of researchers to conduct patient-centered outcomes research within learning health systems.The program receives additional funding from M Health Fairview.
Kasey Boehmer, MD, MPH
Dr. Boehmer is an Assistant Professor of Health Services Research at Mayo Clinic and affiliate faculty with the University of Minnesota School of Nursing. She holds a PhD in Nursing and an MPH in Public Health Administration & Policy from the University of Minnesota. Her goal is to conduct research that advances evidence-based care that makes intellectual, emotional, and practical sense in the lives of people, particularly those who face multiple chronic conditions and personal or social complexity. Dr. Boehmer's time spent in the program will focus on implementing an intervention to support patients on dialysis.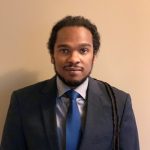 Warren McKinney, PhD, MPH
Dr. McKinney is a Post-Doctoral Research Fellow at Hennepin Healthcare where his research focuses on creating culturally sensitive resources to support African-American kidney transplant candidates. As a MN-LHS scholar, Dr. McKinney will be embedded within the Nephrology Department at Hennepin Healthcare Research Institute. While there, he will develop patient-centered resources to improve patient education and consultation on the newly available Hepatitis C positive deceased donor option at the Hennepin Healthcare Kidney Transplant Program. Dr McKinney completed a PhD in sociology from Columbia University in 2018, and a combined Master's degree in African-American Studies and Sociology from Yale University in 2009.
Drs. Boehmer and McKinney join these current scholars:
Elisheva Danan MD, MPH, Minneapolis VA Center for Care Delivery and Outcomes Research
Cory Schaffhausen, PhD, MS, Hennepin Healthcare Research Institute
Bjorn Berg, PhD, University of Minnesota, Division of Health Policy & Management
Carolyn Bramante, MD, MPH, University of Minnesota Medical School
Sarah McCarthy, PhD, Mayo Clinic, Mayo Medical School
Debbie Pestka, PharmD, PhD, University of Minnesota Medical School
Christopher Tignanelli, MD, MS, University of Minnesota Medical School
Pawl Mroz, MD, PhD, University of Minnesota Medical School
Surbhi Shah, MBBS, University of Minnesota Medical School