News media, advertising, and other media messaging can be powerful tools for building healthy and equitable communities. The key to successfully using these media is employing them in the most effective ways and understanding their political and social context. To help people learn about the best practices — and evidence on the unintended consequences of communication — the University of Minnesota School of Public Health (SPH), Cornell University, and Wesleyan University have launched the Collaborative on Media & Messaging for Health and Social Policy (COMM) and its new website to provide answers.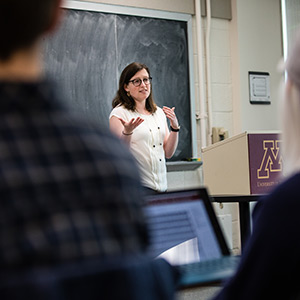 "This research collaborative is driven by our belief that communication can play a role in shifting attitudes, beliefs, and policies to be more equity-promoting," says COMM team member and SPH Associate Professor Sarah Gollust. "However, to realize that vision, we need research to track what messages are already circulating in mass media, to evaluate the effect of these messages on various audiences, and disseminate the work so it can have maximum impact." 
SPH doctoral student Margaret Tait is also a member of COMM. 
The COMM website features a resource library cataloging the research team's collective work relevant to media and messaging for health and social policy. This body of evidence can provide a road map for changing opinions and narratives to advance health equity, while identifying potential obstacles and pitfalls to avoid along the way. The website is searchable by focus area, research methodology, type of media, and specific topics. COMM's research spans five areas of focus:
Communicating about Health Equity

Communication in the Context of Polarization and Politicization

Communicating about Race, Class, and Social Policy

Communicating about the Social Safety Net

Storytelling for Social Change
Members of the collaborative are experts in media coverage of health and social policy issues. Gollust's research examines the influence of the media and public opinion in the health policy process; the dissemination of research into policy making; and the politics of health policy.
"Too often research results just sit on the shelf in journals. But this past year has taught us how important having really solid evidence-based communication can be for public health. I'm excited that with this website we are taking the first step to making a body of interdisciplinary research findings more accessible," says Gollust.
The COMM team believes its work can aid researchers, communication professionals, journalists, changemakers, and policymakers in understanding how media and messaging help form narratives and shape mindsets in a complex, polarized, and changing information environment.