Originally published in the August issue of the Notes on Antiracism, Justice, and Equity newsletter.
Content warning: This column contains references to violence against Black people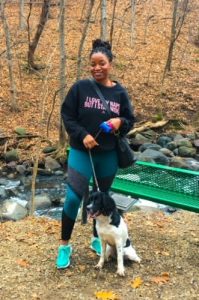 Every time the warm weather rolls around, we hear colleagues and friends making plans for vacation. In Minnesota, this often involves traveling to cabins and spending time on, in, or near lakes. Cabin culture runs deep in the state, giving many the opportunity to escape the cities and cultivate healthy relationships with nature. Scholars have established the positive correlation between outdoor recreation and health. However, for those who have the most to gain from outdoor recreation, including people of color and disabled people, these activities are often inaccessible and fraught with trauma. 
In June 2015, 15-year-old Dajerria Becton was dragged by her hair and pinned to the ground by police in her bikini for allegedly being at a neighborhood pool without permission. In February 2020, Ahmaud Arbery was murdered while jogging through a neighborhood in Georgia. Later that year, avid birdwatcher Chris Cooper was thrust into the spotlight when Amy Cooper (no relation) called the police on him after he asked her to leash her dog. She told police that she was being threatened by an African American man. The stories go on and on. For marginalized people, summer can bring unexpected threats and reminders that our bodies do not belong; we are not welcomed where privileged people go to relax. Even for those of us who are lucky enough to get time away and afford leisure, we are still perceived as outsiders.
As a person in a high-stress job, I have to find ways to decompress, and have been able to find peace and healing in connecting with the natural world. Unfortunately, as a Black woman, I do not feel safe doing outdoor activities alone. I worry about experiencing aggression because of my identities. There are simply places that will never feel safe for me to visit. And I am not alone in this. Overall, just 23% of national park visitors were Black, Indigenous, and people of color in 2020, even though we are over 40% of the population. The irony is that Native American people were the original experts and caretakers of the land and Black Americans were forcibly brought here because of our expertise with cultivating land. But today, we are met with hostility when exploring nature. 
Thankfully, I have been able to connect with other Black professionals who enjoy hiking, camping, and other outdoor activities. We understand the struggles of being Black in America and Minnesota, and find comfort in exploring new activities and sites as a group. In a way, we also serve as ambassadors for other folks who have found difficulty in the outdoors. 
Feeling that the natural world around you is inaccessible is devastating. Unlikely Hikers is an organization for those who have historically been marginalized and excluded from outdoor activities. People who are fat, disabled, queer, trans, and/or neurodivergent can connect with each other both digitally and in person to share stories, good trails, and tips about apparel and gear. The connection to both nature and people who share our identities makes space for refuge and healing in our violent and volatile world. The land, water, and air are our shared bounty, and everyone should feel welcomed. Outside cannot be just for the privileged. 
What can people do? 
Support organizations that advocate for underrepresented outdoorspersons.

Explore how your family cabin can serve as refuge for those who need it most, including in the off season.

Advocate for accessible and free public spaces.

Donate gently used gear.

Ask leaders of local parks and clubs how they support belonging for people from marginalized communities.
Toward justice,
Lauren Jones
Director, Diversity, Equity, and Inclusion
UMN School of Public Health
she/her/hers
—
Resources
Sign up to receive the monthly Notes on Antiracism, Justice, and Equity newsletter.