University of Minnesota School of Public Health (SPH) Dean John Finnegan Jr. will retire in fall 2021 following a search for and installation of the eighth dean of the school. Finnegan has served as dean for 16 years and has been a member of the school faculty for 35 years. During his tenure, the school, which was founded in 1944, has maintained its ranking among the nation's top 10 schools of public health and among the top 6 NIH-funded schools of public health in the nation.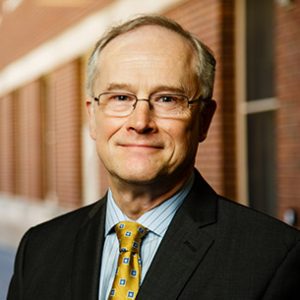 "I cannot think of a better way to have spent the last 16 years of my life than as dean of this progressive, exceptional school and as a colleague to those with whom I serve," says Dean Finnegan. "I am enormously proud of the people in our school community and how they, through their actions, know-how, and strengths, have tackled the biggest and most widespread public health challenges."
Dean Finnegan holds a PhD in mass communication and began at school 40 years ago as a media writer and producer of community health promotion campaigns. In 1985, he joined the SPH faculty and developed a research focus on health information campaigns and the role of mass media in health behavior and social change.
As associate dean for academic affairs from 1998-2003, Dean Finnegan began to grow school enrollment following school-wide strategic planning. When he became dean in 2005, the student body had increased 65 percent, ensuring a stronger public health workforce in Minnesota and beyond. In early 2004, the school had about 90 regular faculty; today, it is approximately 125. Dean Finnegan has led efforts to increase the diversity of the school's faculty, staff, and students: More than half of its faculty today are women, and 31 percent of this year's incoming students are Black, Indigenous, and students of color. 
In 2017, then-University of Minnesota President Eric Kaler asked Dean Finnegan to lead the President's Initiative to Prevent Sexual Misconduct, understanding that it needed to be recognized and treated as a public health issue. By June 2018, more than 99 percent of University faculty and staff had completed an initial training focused on "bystander" support in sexual  misconduct encounters, supporting survivors, and advocating a value of zero tolerance, an initiative mandate.  Dean Finnegan has also spoken and written extensively about gun violence — including its role in suicides — as a deep and troubling public health concern. Currently, he is leading an SPH-wide initiative to confront racism, both in the school and society at large.
Dean Finnegan also has held leadership positions in local, national, and international organizations, from his neighborhood Montessori school to Children's Heart Link to the World Federation of Academic Institutions of Global Health, of which he is a founding board member and outgoing president. He has been deeply involved in the Association of Schools & Programs of Public Health (ASPPH), the Council on Education for Public Health (CEPH), and is a member of the American Public Health Association (APHA).
"John has been a tremendous leader within the ASPPH community over the last 20 years both as associate dean and dean of the school," says Laura Magaña, ASPPH president and CEO. "As chair of the ASPPH board of directors, he was instrumental to our success in restructuring ASPH to ASPPH. His thoughtful contributions and guidance on ASPPH advocacy efforts and special task forces produced significant contributions for our members and to the broader academic public health field. We hope he will remain connected to the ASPPH community."
University of Minnesota Provost Rachel Croson expects a search for Dean Finnegan's successor to begin in earnest early next year.