The University of Minnesota honored School of Public Health (SPH) Professor Rachel Hardeman with a Community-Engaged Scholar Award. The University gives the award to those who have a history of exemplary community engagement and a commitment to equity, diversity, inclusion. Hardeman was singled out for her work to create better health outcomes for birthing people, especially people of color, and their babies.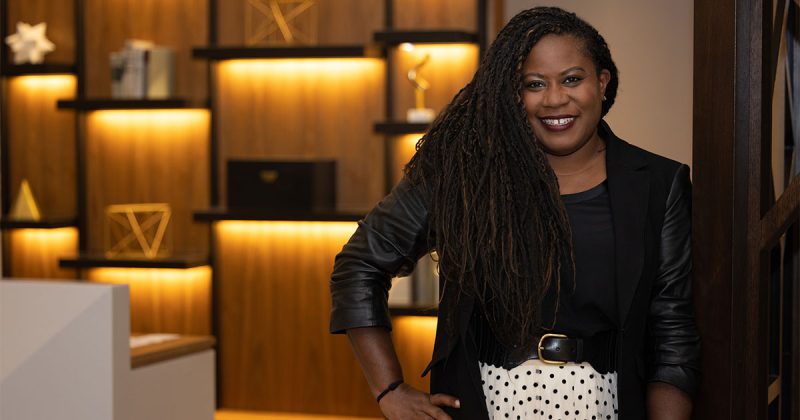 In Minnesota, Black birthing people are 2.3 times more likely to die of pregnancy- or childbirth-related causes than their white counterparts, and the rate for Native Americans is about 4 times higher than their white counterparts. Black and Native American birthing people also have higher rates of preterm birth, low birth weights, and late or no prenatal care. The numbers are similar across the U.S.
"Rachel is so deserving of this award," says SPHinterim dean Tim Beebe. "Her work is having a tremendous effect on traditionally underserved birthing people and opening our eyes to the overarching issue of racism in medicine. Her community and scholarly work is based on her conviction that racism, not race, drives health inequities and we are so proud of what Rachel does to shed light on this terrible legacy."
Hardeman is the Blue Cross Endowed Professor in Health and Racial Equity and founding director of the SPH Center for Antiracism Research for Health Equity (CARHE, pronounced "care"). The focus of her research and community-engaged work is to investigate racism's severe impact on health and to discern ways to overcome its influence. 
Examples of her research are the discovery that Black babies die less frequently when cared for by Black doctors and her ongoing study on the association between racialized police violence and the occurrence of preterm birth and low birth weight among Black infants. She also initiated a project to develop and test a way to quantify racism called the Multidimensional Measure of Structural Racism, which determines the amount of structural racism people are exposed to in communities.
Hardeman has worked extensively with Roots Community Birth Center in north Minneapolis and found that putting the client's culture at the center of their care results in fewer deaths and illnesses for parent and child. Two pieces of legislation — one in California (SB-464) and one in Minnesota (MN § 144.1461) and both called the Dignity in Childbirth and Pregnancy Act  — leaned heavily on Hardeman's work and include training programs to educate perinatal care providers about racism and its impact on maternal health. Recently CARHE partnered with the Minnesota Department of Health to launch these anti-bias continuing education training courses.
As well as receiving the Community-Engaged Scholar Award, Hardeman has been honored by the University with a McKnight Presidential Fellowship and the Josie R. Johnson Human Rights and Social Justice Award. Her numerous awards from other organizations speak to her dedication to working with and in the community to advance health as a human right.