Home » Academics » Dual & Joint Degrees » Public Health Pharmacy MPH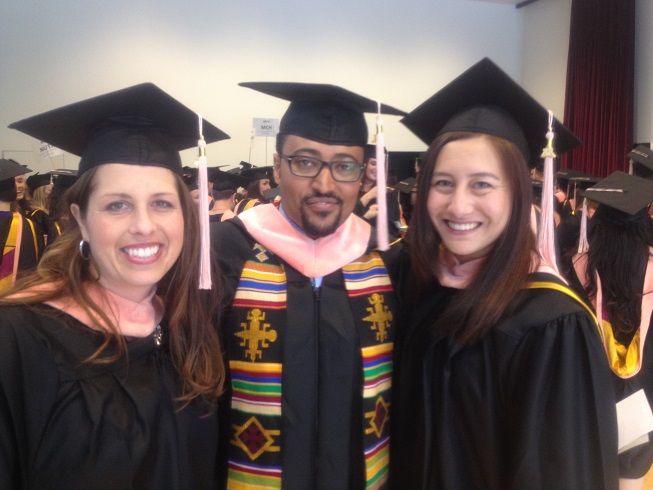 The role of today's pharmacist is evolving into an active participant in managing chronic disease. The role of public health coincides with the work of a pharmacist by providing education on policy, patient education, and population management.
Public health pharmacists are involved in advanced pharmacy practice, health policy development, emergency and humanitarian response, global health, and many other areas.
The Public Health Pharmacy program gives you an opportunity to complement your pharmacy degree with a Master of Public Health. This dual degree path offers training in health education, health promotion, and disease prevention interventions.
The PharmD/MPH dual degree program is designed for pharmacy students who are presently enrolled in or applying to any accredited pharmacy school at any college or university in the country. If you are a practicing pharmacist, please consider the Executive Program in Public Health Practice.
      Completing a dual degree (PharmD/MPH) has given me the skills, perspective, and     experience to enter the workforce ready to make a positive impact on population health by reducing healthcare disparities and focusing on quality improvement."
Anjoli Punjabi, PharmD, MPH 2017
Public Health Pharmacy MPH Info Sheet (884 KB PDF)
With approval, students may apply up to 14 credits of pharmacy courses toward the MPH. This saves you time and money while earning both degrees. A large majority of the MPH courses are offered online, giving students the freedom to complete both degrees with flexibility and in a timely fashion. Because it is an online program, the MPH charges resident tuition.
We will work with your pharmacy school and curriculum to identify pharmacy courses that could transfer to the MPH program. The samples below are written for UMN Pharmacy students.
See Detailed Public Health Pharmacy MPH Curriculum Information (PDF)
See a Public Health Pharmacy MPH Sample Schedule (PDF)
Culminating Experience
The Master's Culminating Experience is a planned undertaking involving studious inquiry or examination. The product of that undertaking is a formal, written, scholarly report that demonstrates writing proficiency; and the ability to critically approach a topic, synthesize, interpret, and successfully convey information to the appropriate audience.
Students are expected to demonstrate familiarity with the tools of applied research or scholarship in public health practice, the ability to work independently, and the ability to apply skills learned in coursework by completing a research paper, a systematic literature review, a consultative report, a grant proposal, or complete the Certification in Public Health exam.
PharmD/MPH students may customize their PharmD paper requirement to meet the needs of the SPH culminating experience. Students are required to complete the MPH culminating proposal form and receive approval from their SPH and PharmD advisors.
There are five MPH culminating options:
Certified in Public Health Exam (CPH). Certification as a Public Health Professional demonstrates your command of a standard of knowledge and skills in public health; encourages lifelong learning; adds credibility to public health profession; increases public health awareness, fosters an environment of professional community and puts you ahead of the curve as a public health professional. Students are eligible to take the CPH exam after completing the core courses. PharmD/MPH students who take the non-credit bearing CPH exam to satisfy this requirement will substitute additional 3-4 credits elective courses.  To date, our students passage rate is 95%. This is the preferred option for dual degree students.
Consultation report – the consultative report offers students the opportunity to address a real problem faced by a public health agency (public or private) and produce a product for a real client.
Research paper – the research paper will focus on pertinent questions or issues in public health practice.
Systematic literature review – the literature review will focus on pertinent questions or issues in public health practice.
Grant proposal – learning how to write a successful grant application is a very important skill to possess in the practice of public health.
Field Experience
The public health practice field experience provides students with a means of gaining additional insight into public programs, personnel management, governmental relations, public relations, legislative support, and knowledge of special investigations conducted by these organizations. Participation in the activities of public health practice programs external to the university adds a dimension of experience to the curriculum that enriches the student's training and may be beneficial in seeking employment.
PharmD/MPH students may customize their PharmD rotation to meet the requirements of the SPH field experience. The rotation credits can be transferred to the MPH to fulfill the field experience 4 credit requirement. A completed SPH field experience contract is required prior to starting the internship experience.
PharmD/MPH dual degree students have completed their field experience at:
Tata Institute of Social Sciences Maumbai, India
Minnesota Department of Health
Food and Drug Administration, Silver Spring, MN
Shoulder to Shoulder, Ilula Global Health Team Experience in Tanzania
HealthPartners
All applicants must be applying to or currently admitted to a School of Pharmacy. Students must have a bachelor's degree before beginning MPH coursework. All applications are reviewed holistically.
Regarding transfer credits, we will work with your pharmacy curriculum to identify pharmacy courses that could transfer to the MPH program.
Standardized Test Requirement
This program does not requires the PCAT. All applicants must be applying to or currently admitted to a School of Pharmacy accredited by the ACPE.
Admission Averages
GPA of 3.00.
Applications deadlines:
*April 1 to start May/summer terms
Augusts 1 to start fall term
December 1 to start spring term
*Students are encouraged to complete the application by April 1 and start the MPH in May/summer terms.
The public health pharmacist can be involved in advanced pharmacy practice, health policy development, emergency and humanitarian response, public health leadership, global health, and much more.
Public Health Pharmacy students will benefit from education that prepares them for impacting policies, providing education to patients in order to manage certain diseases, conduct research on drug interactions/therapies, and alternative herbal medications at all levels – from the local, regional and state to the national and international levels – at the intersection of government, nonprofit and private sectors.
The dual degree option is an exciting opportunity for both schools and students to improve public administration, policy, and planning by bridging the knowledge, skills and professional training of these two important fields.
PharmD/MPH can influence prevention activities as well as prevention service delivery. For example, providing vaccinations to thousands of people over a large geographic area in a very short period of time. PharmD/MPH graduates can also work with screening programs to increase early therapeutic interventions in numerous chronic diseases states such as diabetes, hyperlipidemia, obesity and hypertension.
Public Health Pharmacists work in a variety of organizations, including the Public Health Service Corp, Department of Health and Human Services, Indian Health Services, Homeland Security, Centers for Disease Control and the Environmental Protection Agency.
Job titles of some PharmD/MPH:
MSHP President, Director of Pharmacy at the Mayo Clinic Hospital, Rochester, Minnesota.
Pharmacy Care Manager at Essentia Health, Duluth, Minnesota.
Pharmacy Program Manager, Minnesota Department of Health.
Past ASHP President, Director of Pharmacy at St. Croix Regional Medical Center.
Pharmacist, Clinical Informatics at Epic.
Assistant Professor, University of Minnesota College of Pharmacy.
PGY1 Health Systems Administration Resident, University of Minnesota.
Clinical Program Manager, Specialty Pharmacy at CIGNA.
Medication Therapy Management Coordinator, Mayo Clinic Hospital, Rochester, Minnesota.
Read More
The American Public Health Association looks at how public health and pharmacy professionals are joining forces in community health.
Who is eligible for the program?
Applicants must be accepted or enrolled a Pharmacy School and complete a SOPHAS application.
How long does the program take?
The MPH can be completed within the same four years as pharmacy school, by taking public health courses in the summers after year one and two and taking public health online courses during the fourth year with rotations, if time allows.  You have up to five years to complete the MPH.
What is unique about the dual degree program?
You may transfer up to 14 credits of your pharmacy courses, with approval into the MPH program, saving you valuable time and tuition dollars. You may also focus the elective credits on one topic or several topics. The goal is explore your interest and design the dual degree to complement your pharmacy practice. The SPH offers courses of the following topics:
Food protection
Global health
Health disparities
Preparedness, response and recovery
Public health leadership
Public health policy
Public health systems
Application Deadlines
April 1 for
Summer Term Admission
August 1 for
Fall Term Admission
December 1 for
Spring Term Admission
Major Coordinators
Kate Hanson
612/626-7953
hanso041@umn.edu
Katy Korchik
korc0004@umn.edu
Program Director
Katherine Waters
water144@umn.edu