2021 Award Recipients
Gaylord Anderson Leadership Award
Don Wegmiller, MHA '62
Chairman and Co-Founder
C-Suite Resources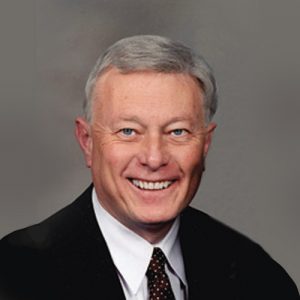 Don Wegmiller is co-founder and chairman of C-Suite Resources, and has an expansive healthcare industry resume that spans 35 years.
Wegmiller developed and served as CEO of the Allina Health System for 15 years, one of the Upper Midwest's largest integrated systems. He went on to serve as CEO and later Chairman of INTEGRATED Healthcare Strategies, the nation's largest healthcare executive compensation consulting firm.
He has served as Chairman of the American Hospital Association, the organization's highest elective office and has led many other healthcare organizations.
Wegmiller currently serves as Chairman of Scottsdale Institute, a healthcare information technology collaborative; holds policy positions in state and national healthcare associations, and has served on the boards of more than 20 publicly held corporations over the past 20 years. He currently serves on the boards of three public companies and two company advisory boards.
Wegmiller has written and lectured extensively on healthcare topics and his work has been published in a variety of national healthcare publications. He teaches healthcare administration at the University of Minnesota, Duke University and Arizona State University.
Wegmiller's past recognitions include being named as one of Healthcare's 100 Most Powerful People and being inducted into the Healthcare Hall of Fame in 2013, an elite group of only 90 healthcare leaders including Drs. Charles and William Mayo, founders of the Mayo Clinic, and Dr. Michael Debakey, noted heart surgeon.
Wegmiller received his master's degree in hospital and healthcare administration from the University of Minnesota in 1962. He has been a perennial champion of the MHA Program and the School of Public Health and currently serves on the cabinet for the School of Public Health's Shaping a Future of Health campaign.
Alumni Award of Merit
Julia Joseph-Di Caprio, MD, MPH '96
Senior Vice President and Chief Medical Officer
UCare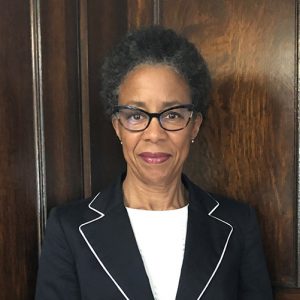 Dr. Joseph-Di Caprio is responsible for setting and implementing a market-leading agenda for population health and clinical operations excellence for UCare's 500,000 members. She is a key member of the senior management team and provides strategic direction and operational oversight for UCare's Health Services Division that includes Equity and Inclusion, Medical Directors, Clinical Services, Mental Health and Substance Use Disorder Services/Special Needs and Basic Care, Credentialing, Appeals and Grievances, Quality Management, Population Health, Health Services Analytics, Disease Management, and Pharmacy to ensure high-quality, cost-effective care for UCare members.
Dr. Joseph-Di Caprio represents UCare in outside activities such as local and national associations, work groups and committees. For example, she co-chairs the Health Equity Committee of the Minnesota Council of Health Plans and is vice chair of the national Alliance of Community Health Plans Medical Director group. Her extensive professional career in the Twin Cities community includes 22 years at Hennepin County Medical Center (now Hennepin Healthcare System) where she began as a Pediatric and Adolescent Medicine Specialist and advanced to several physician leadership roles, including Chief of Pediatrics. Joseph-Di Caprio also has been a Medical Director for Medica, Senior Medical Director of Care Management for HealthEast, and Fairview Health Services Medical Leader, Connected Care.
Community service is a hallmark of Joseph-Di Caprio's career. She serves on the Boards of Directors for University of Minnesota's MPhysicians, Planned Parenthood North Central States, and Mental Health Resources. She is a long-time Assistant Professor for the University of Minnesota Department of Pediatrics and sees patients monthly at NorthPoint Health and Wellness Clinic in Minneapolis.
Joseph-Di Caprio has a B.S. in Physiology from McGill University in Montreal, Quebec Canada, an M.D. from the University of Illinois, and an M.P.H. in maternal and child health from the University of Minnesota.
Alumni Innovator Award
Stephanie Farnia, MPH '04
Principal
Nimitt Consulting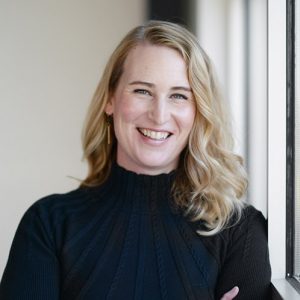 Stephanie Farnia currently serves as a Principal with Nimitt Consulting, a boutique consulting firm focused on coverage, coding and reimbursement issues related to cell and gene therapies for rare diseases. Prior to joining Nimitt, Farnia was the inaugural Director for Gene Therapy and Cellular Immunotherapy at the Blue Cross Blue Shield Association, where was responsible for providing strategic leadership and direction on advanced therapies to BCBS Plans, including clinical pipeline tracking, value-based payment models, and engagement with external stakeholders. Ms. Farnia has previously served in health policy and strategic leadership roles for the American Society for Transplantation and Cellular Therapy and the National Marrow Donor Program/Be The Match, where she led initiatives focused on improving access to stem cell transplant and CAR-T. Ms. Farnia holds a master's degree in public health policy and administration from the University of Minnesota, where she was a Judd Fellow, and currently resides in Madison, Wisconsin with her husband and two daughters amidst an avalanche of sports equipment.
Emerging Leader Award
Charles Rogers, PhD, MPH '17, MS
Assistant Professor, Division of Public Health
University of Utah School of Medicine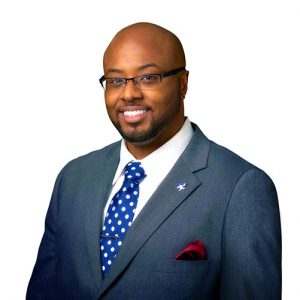 As a behavioral scientist and master certified health education specialist (MCHES®), Dr. Charles R. Rogers, PhD, MPH, MS currently serves as a tenure-track Assistant Professor of Public Health at the University of Utah School of Medicine. In addition to serving as Founding Director of his Men's Health Inequities Research Lab since 2014, Dr. Rogers is also an Associate Member of Huntsman Cancer Institute and the University of Michigan-Mixed Methods Program. As an emerging leader of the cancer health disparities workforce, Dr. Rogers has shared his knowledge across North America, Jamaica, East Africa, Japan, and also via a number of venues including newspapers, radio stations, national conferences, minority health fairs, and television.
Since African-American men have died from colorectal cancer (CRC) at the highest rates of any racial/ethnic group in the U.S. for more than 25 years, Dr. Rogers founded the Colorectal Cancer Equity Foundation in March 2021 focused on removing obstacles to CRC equity among African-American men and other underrepresented populations by increasing awareness of CRC—a preventable, beatable, and treatable disease no one has to die from. Complementary to his President role with the Foundation, Dr. Rogers' research agenda has contributed to translational solutions that address the complex underpinnings of inequities in men's health, with a primary focus on CRC awareness and prevention among African-American men for more than 10 years. Since 2018, Dr. Rogers has been awarded nearly $1.3M from the National Cancer Institute, the Research Foundation of the American Society of Colon and Rectal Surgeons, Exact Sciences, 5 For The Fight, and the V Foundation for Cancer Research for his community-engaged, mixed-methods research aiming to eradicate inequalities in both CRC screening completion among African-American men and early-onset CRC among individuals younger than age 50.
Dr. Rogers graduated with his master's degree in public health administration and policy from the University of Minnesota School of Public Health in 2017.
Outstanding Mentor Award
Beth Heinz, MHA '08
Executive, Mental Health and Addiction Services/Women and Children Services
M Health Fairview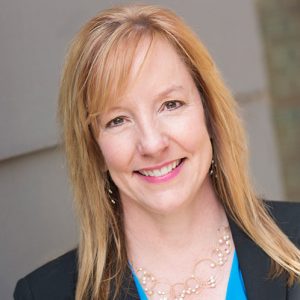 Beth Heinz, MHA, MSW, is the senior executive of M Health Fairview accountable for Mental Health & Addiction services and Women and Children services. She is responsible for providing executive management oversight for all related operations, strategic growth strategies, physician management and innovation. Beth is a key partner to the University of Minnesota department of Psychiatry, Pediatrics and Obstetrics/Gynecology. M Health Fairview is the largest care delivery provider of mental health services in the Upper Midwest, as one of the market's first movers in the integrated behavioral health primary care delivery model. M Health Fairview has a strong history of ground-breaking pediatric and women's care, including Bone Marrow Transplant, Maternal Fetal Medicine and Peds Cardiology.
Beth's passion in healthcare involves leading performance improvement in the areas of integration, growth, innovation, quality, experience and efficiency. She values teamwork, achievement and centering all efforts around the patients, families and staff we serve.
She received her Master of Healthcare Administration (MHA) in 2008 from the University of Minnesota and holds a Master of Social Work (MSW) from the University of Michigan, Ann Arbor. Further, she completed a Women Executives in Healthcare course at Harvard T.H. Chan School of Public Health and a Mini-MBA – Health Care Management from the University of St. Thomas, Minneapolis. Beth has previously served as University of Minnesota Medical Center Chief Quality Officer and, prior to joining M Health Fairview, she was the Vice President of Operations and Chief Quality Officer within the HealthPartners system in Minnesota.
Beth gives back to the community by mentoring University of Minnesota graduate students through the School of Public Health, serving on the HDM Advisory Board with the College of Continuing Ed and Professional Studies and is a Case Faculty Advisor for the MHA program. In addition, she serves on several local boards and committees, including the Ronald McDonald House and the Mental Health Committee of the MN Hospital Association. Beth's professional contributions have included multiple conference presentations, panels and publications; BWBR & Scott Zeller "EmPATH Units: Improving Psychiatric Emergency Care", Short Course "Hospital Management – Mental Healthcare Delivery", Round Table Forum "Clinical Process Improvement – Key Insights from Seven of U. S. Healthcare's Leading Clinical Innovators" and IHI Annual National Forum "Health System Design to Impact Social Determinants of Health" to name a few.
Personally, Beth enjoys almost anything outdoors; skiing, snowshoeing, running, hiking, paddle boarding and kayaking. The most rewarding time away from work is time spent with family, especially on new travel adventures.
Do you know a graduate of the School of Public Health (SPH) who deserves recognition?
The SPH recognizes the outstanding achievements of its alumni through the SPH Alumni Awards and various University honors. Alumni are honored at various stages of their careers. Tell us more about an alum you think deserves to be honored.